I keep being shocked by the 'dedication' that people have in pursuing the fake perfect body.
Yes, I've posted a gazillion times about that, so if you're tired of that, stop reading now.
---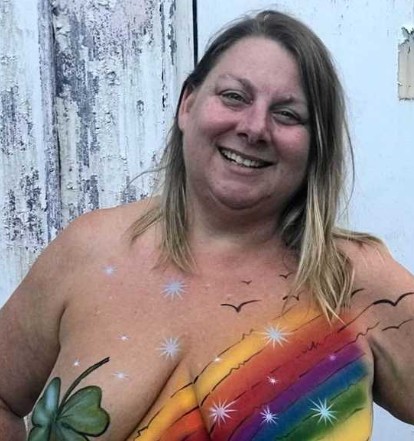 Still reading? Great.
We naturists/nudists know that there is no such thing as the 'perfect' body. We see bodies everywhere, without the 'safety net' of clothing, as often as we can / want. And what do we see? People. Nice people. Big, thin, black, coloured (see left), white, skinny, you name it and it's in the mix.
The clothes-free community doesn't care how you look, as long as you're kind and not making a nuisance of yourself.
That doesn't sound very complicated, does it? And most people I know are just like that. Ordinary people who just want to live a nice life. Nothing posh, nothing fancy (okay, occasionally a splurge is nice, I know that too), and having a good time. Fun.
The very things that naturists also like, most of the time, as far as I know.
It's the body that keeps many people from enjoying our freedom. It is so sad to hear that, even from people who are somehow quite close to the resident evil – I mean the reigning beauty ideal. What is it that makes people so uncertain about themselves?

I think it is as much a small as a big thing. The switch in your head that has to flip. I think many of us have felt when that flip happened. Many of us don't even know about the switch but for many people it's there.
I wonder if there is a way to access more switches in this world. To help people get over a lot of insecurities.
Life is too beautiful to be hidden inside a few layers of fabric.