You may have heard this whining before:
When you go to a nude beach you see all the people you don't want to see.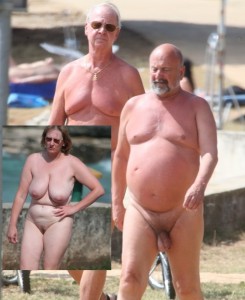 Yes. That's probably true for the people who go to such a beach to look at people. The way they probably also go to a dressed beach, to ogle people and try to see what they can't see because of the wonders of modern bathing suits (although those aren't very covering lately).
The people who go on about this don't have a clue about nude beaches. They may not even have a clue about textile beaches, because people – as far as I understand – go there to enjoy themselves and have a good time. Not to be stared at as if they're strips of bacon hanging in a window to make other people drool over them. And that goes for both kinds of beach: nudists aren't there to be stared at. They are not the super model kind of folks. I think I mentioned this before: there are perhaps 20 supermodels in the world (those are the skinny, malnourished people who have to live on air and a slice of lettuce, remember?) in a world population of 7 billion. That is 1 supermodel on every 350,000,000 normal people. How big do you think the chances are to catch all those supermodels on the same beach? Let's forget the nude part here for convenience's sake.
I've been to nude beaches. I don't go there to stare. I go there to relax, to meet nice people and have a good time. The folks whining about us (yes, I include myself here) should stop that and be satisfied with photoshopped photos and manipulated videos of people who aren't real. I'll even throw in a beach background for them to make them entirely happy. As long as the whining stops.
Maybe someone can show me how wonderful, healthy and fit these whiners look themselves…