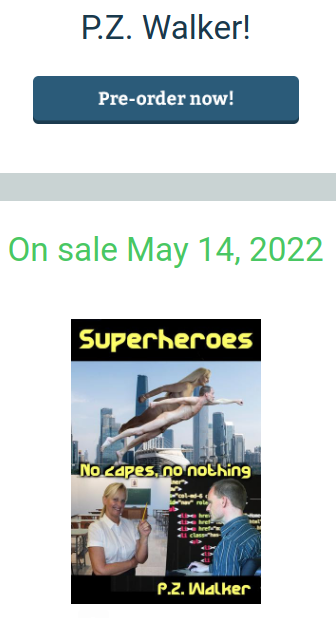 Yes, ladies and gentlemen and people who don't fit either or any description…
There is a new book coming out on May 14th of 2022. It's about superheroes. Superheroes that don't wear capes. Or anything else.
Let me tell you what the book is about:
Pat and Jody are friends. Together with some other friends they go out and have fun afternoons and evenings.
At some point they decide to "visit" a mysterious warehouse, because Jody feels like "breaking in" somewhere.
Things happen in that warehouse, and for Pat and Jody life will never be the same again.

Find out how they acquire weird powers and how they have to find a balance between being superheroes and regular people. It sounds easy, until you face the problem.
The publication date has been confirmed on Amazon and Vivlio (a French e-book store). More stores are Kobo, Apple Books and Barnes&Noble.
And the list goes on with Google Play Books and Tolino!