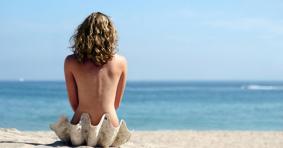 As a female nudist I wonder why it is in a world where we have fought throughout the years for equality that there are not more female nudists? Some women have fought for our rights to bare our breasts in public just as our male counterparts do and won the fight, however we don't go out in public bare breasted. WHY?
So after a great deal of communication with women I thought it best to put these issues in writing. Now please do not shoot the messenger. My only objective here is to create a more comfortable and understanding message to let the ladies know that it is ok to be nude.
Read the entire post at The Nook.