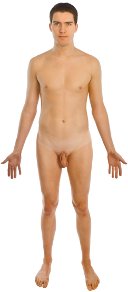 It's true. The dressed are always looking for ways to be offended, like the overly religious people. Perhaps unconsciously but they do. A while ago I was out on the bicycle. Good weather for it, be it a bit warm and stuffy. At some point at a deserted side trail I decided to stop, take off the few things I had on and walk around au naturel for a little  to cool off and enjoy the bit of wind on my skin. Of course at that moment two elderly people cycled past the trail and caught a glimpse of me. I saw that they saw me. Oh well.
They came back and got off their bicycles. The man said, "You don't do that."
Me: "Sorry, you probably mean that YOU don't do this. I do."
Man: "You can't do that. People can see you. You're not normal."
I told him that I had the law on my side as this was not a public road. Then I asked if it bothered them that I was naked. (I wasn't making any moves to get dressed.) Man: "Yes, it bothers us."
Me: "Does it bother you more now you see all of me than when you happened to come by?"Man: "Yes. Of course."
Me: "Well, then you should not have come back." At that they both looked very confused… I doubt they understood.