Hi! Welcome back!
As I already promised, here's some more about my vacation in Crete at the Vritomartis naturist hotel.
Clothing optional.
Yes, that's right. Vritomartis is not a hardcore naturist hotel. When you come here you can see people in all states of dress or undress, and no one here makes a fuss about it. And that's the way it should be. Tolerance is master here. I've seen nude people chat with dressed people, naked parents walk along with their swimsuit-wearing children, people wearing towels, and so on. It doesn't matter. Everyone's here to have a good time and you can shape that any way you want.
So, hard core nudists who don't want to see any textile shouldn't even consider Vritomartis because they'll get frustrated. Just so you know.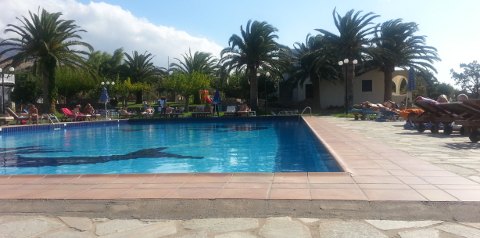 Up here is the pool where you can swim, do the aquagym I already mentioned in post 1, or stay out of and grab one of the many sun beds to enjoy the warmth.
The nude beach.
The hotel has its own nude beach. This beach is not clothing optional, the nude beach is for nude people. There's a small bar where you can get food and drinks so nothing will keep you from spending an enjoyable naked day there. As most beaches on the Greek islands this beach too is a pebble beach but you can get beach beds there so you don't have to worry about strange imprints on your bare parts – unless you like things like that. *grin*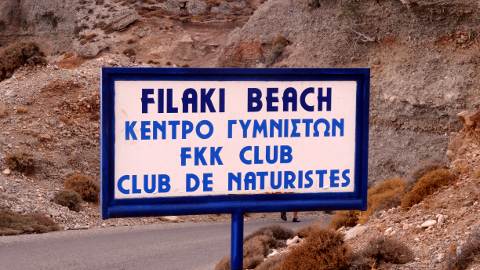 The Vritomartis nude beach, it's called Filaki, is a mere 750 metres / half mile away from the hotel. Also for this destination there is a shuttle service which runs very frequently, so even when you're not good at walking it's still easy to go there. As I mentioned in the previous post, the roads are public so officially you aren't supposed to walk there in the nude, but the road to the nude beach is very quiet and the chances of being 'caught' in the buff there are slim. Note that at some point you'll be walking relatively close to a regular road with some traffic though. It's advisable to keep something at hand just in case.
Naked Crow 2
Yes, while I was here I wrote as well, and I managed to finish the first draft version of Naked Crow 2. I'm quite pleased with the story, and during this vacation I actually had some inspiration for a part 3 if there is any interest for that!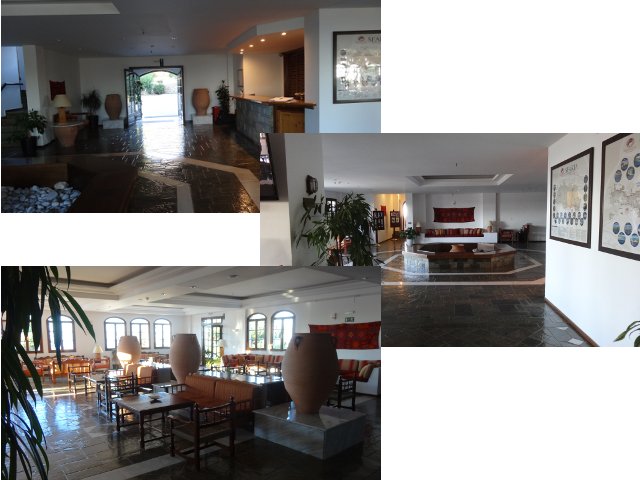 Up here you have a few impressions of the hotel interior. And last but not least a few pictures of my favourite pastime at the hotel: