Yes. I've been away. And now I'm back, which is a bad thing. You may wonder why so let me tell you:
I've been to a very nice naturist hotel in Crete (one of the Greek islands). The hotel is called Vritomartis. The name stems from a Greek Goddess who was (and perhaps still is) the patron of fishermen.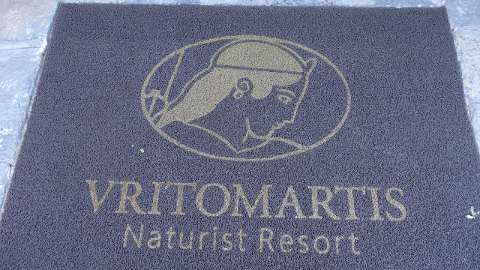 What can I say about Vritomartis? A lot.
First: it was perfect for my needs for vacation. A quiet place, far from busy crowds, mad traffic and all that. If peace and quiet isn't your thing, don't go to Vritomartis. If you like meeting nice people, friendly staff, clean rooms, excellent food, space and time to breathe and relax while wearing what you like best, then you need to go to Vritomartis.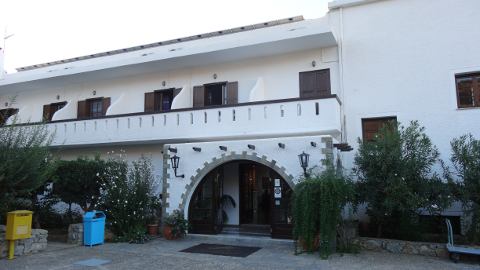 General information.
The hotel is located at the south coast of Crete, at the foot of the mountains and close to the sea. The nearest village is Chora Sfakion, 2.2km/1.5 miles from the hotel. The hotel has its own bus service to get people to and from the village 4 or 5 times a day. The distance isn't bad and for people who like to walk it's a nice walk to go there and come back. (Note that you can't officially do this in the nude as it's public road, but I've talked to one man who walked most of the stretch in the buff.)
The nearest ATM / bank machine is in the village, there is no such thing at the hotel. Good to know if you plan to visit Vritomartis.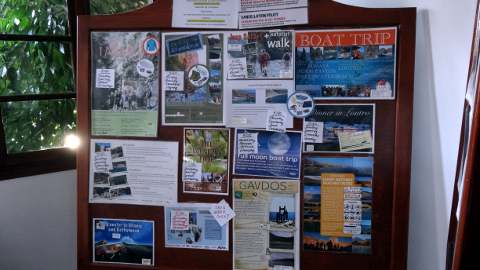 Excursions and trips.
The staff can book lots of trips for you. There's really a lot you can do here if you're so inclined. Note that you need to pay for excursions in cash, so either bring enough or venture out to Chora Sfakion to the ATM. (The machine is filled up about once a week so you run the risk of finding it empty.)
What can you do? There are several hiking tours through the many gorges which make this region of Crete famous. At least one hiking tour is (mostly) naturist. There are jeep trips, naturist boat trips, visits to archaeological sites and bunches more.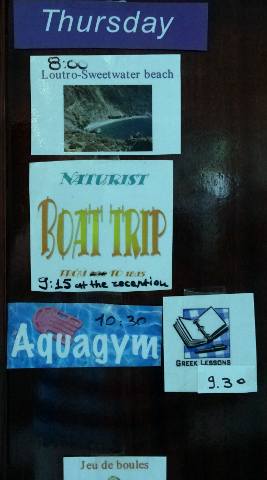 For those less inclined to go out there are activities as well. The hotel staff provides lots of fun things to do, like Greek lessons, aquagym, volleyball, shuffle-board, tennis and petanque / jeu de boules.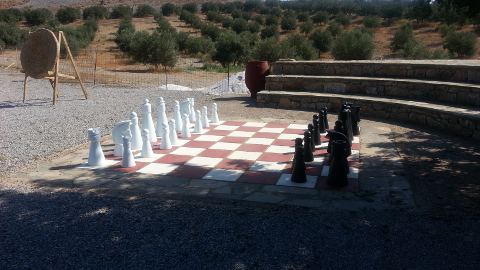 There is even a big chess board for if you like chess, and my favourite was the archery hour. Everyone at Vritomartis can do and leave what they want. Feeling fine just hanging around at the pool or strolling through the garden? Stroll and hang around.
As you can see, I'm quite taken with this hotel. I'm quite certain I'll come back here.
In another post I'll tell some more about Vritomartis. At least now you know a bit about where I spent my time away from zjuzdme.org! 🙂
Curious? See more about the hotel at their website, or wait for the second part of my Vritomartis experience!