You're most probably facing the same thing I am. The invitation of your (local) government to stay home as much as possible.
Yes. It's annoying, depending on where you are. In many places of the world you're simply forbidden to go outside unless there is a strict need, like grocery-shopping, medical attention, walking the dog, etc.
Here in the Netherlands it's not that bad yet. We can still go outside for a breather. Groups are not allowed, and people have to stay 1.5 metres / 5 feet apart. I understand that.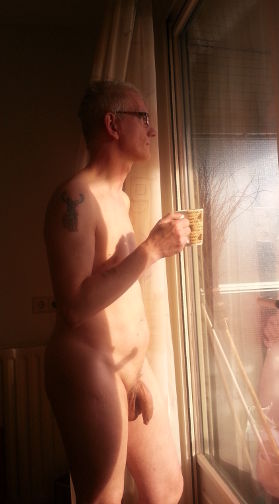 I'm making the best of it. Since there is no one in my home who complains about me not wearing clothes, I go nude as soon as the temperature is nice in the living room. (We're having quite some night frost lately, which isn't usual for March any more.)
And so I enjoy the morning sun, drink my coffee and do my work.
Yes, the restrictions that are in place aren't the biggest joys ever, but doing it this way, it's not a punishment for me.
It's also interesting to notice that, for me, not very much changes in this pandemic virus situation. Of course, I don't drive to work every day, which is different, but not being a very social person now has it's benefits. I don't have the need to meet many other people on a daily basis. Actually, meeting so many of them during a normal office day is very draining for me, so in a way this is a great relief! I'm fine with being alone – I've been doing that most of my life.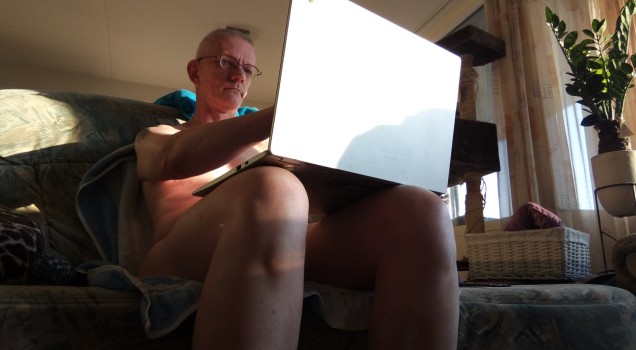 How are you coping with the lock down, if that's applicable for you? Are you bored? Going crazy? Desperate to be around dozens of people, even from a distance?
I'm very curious how long all this will go on. China reports fewer cases and people can go out again. It took them 2 months of rigorous lock down. Let's hope we can get through that with less strict rules, but we'll see!
Have a good day, everyone, and stay naked if you can. Let your skin breathe.