I've been thinking about the strange effect of being cold vs. not really cold with respect to the difference between being clothed and being naked.
A while ago I was sick and tired of the continuing cold spring over here (and that feeling comes fully dressed) so I went to the sauna.
Being there was great, care- and clothes-free, and as I sat outside wearing nothing but a good mood and talking to nice people it didn't feel cold at all. And that with the same temperature as before, around 14c/57F, which I found cold while wearing all that cumbersome stuff. I'm sure most of you have experienced something similar.
The same thing happened on my nude walk a few weeks ago; despite the 11c/51F, the wind and a little rain it felt just fine.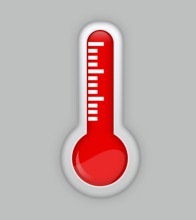 Now I'm not an expert on the subject, but suddenly I had this idea that the change in sensation might come because of the clothes. Clothes keep many parts of you very warm while other parts cool down. The difference between these two 'sides' of the body can give your brain entirely wrong information about the actual way you feel.
When you wear nothing, every part of your body senses the same temperature as it's more evenly distributed over your entire skin. No big difference from head to toe, so no real sensation of naturally cold (cool) versus artificially warm.
Does that make sense?