Note: I found this article at https://www.artsy.net/article/artsy-editorial-the-neo-naturists-empowered-women-to-be-wild-and-free and am reposting it here.
Rediscovering the Radical Feminism of the Neo Naturists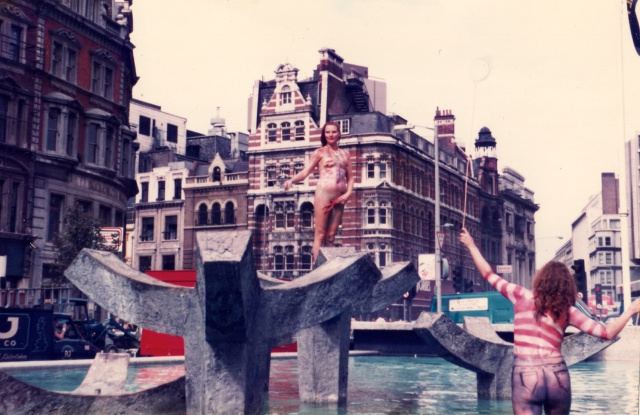 "The Neo Naturists like taking their clothes off for the sake of it," Christine Binnie and Wilma Johnson wrote in a 1985 manifesto—and that's exactly what they did. A British underground art movement born out of the 1980s, the Neo Naturists were a body-painting trio of female flashers, made up of Christine, her sister Jennifer, and their friend Johnson.
The artists began to appear on the London club scene around 1981, turning up at Heaven in Soho (one of London's first gay clubs) or the punk music venue The Fridge in Brixton, adorned in nothing but paint. They would perform on stage, chanting songs and throwing up their legs in an unruly version of the cancan. At other times, they'd simply flash at the crowd. Beneath their overcoats they had perfected a number of looks painted directly onto their bodies, including trompe l'oeil lingerie, and wild, grinning faces that transformed breasts into eyes and belly buttons into nostrils.
The Neo Naturists had their heyday from 1981–1986, but they have reformed this summer for a retrospective at Studio Voltaire in London. The show is an archival assemblage of paintings, slides and photographs, low-fi videos recorded in nightclubs, newspaper clippings and other ephemera—and, pressed on the gallery walls, body-prints made by the Neo Naturists themselves, some of whom painted their bodies for the first time in 20 years.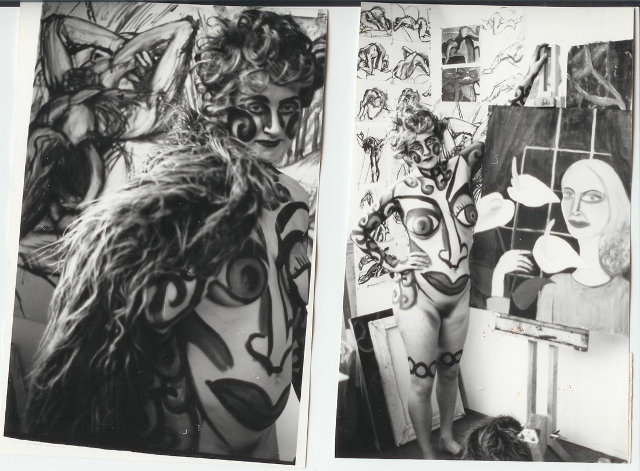 The group has its roots in the punk anarchy of 1980s London, an era marked by the ruthless free market spirit ushered in by Margaret Thatcher and the subcultures that emerged in resistance to it. One of those was a cross-dressing scene known as New Romanticism, which was a breeding ground for exquisitely androgynous club kids like Boy George and Marilyn. The Neo Naturists were part of that scene, collaborating with Marilyn as well as other now-famous artists such as Grayson Perry and filmmaker John Maybury.
As much as they were aligned with the New Romantics, they were also satirists of them, deliberately positioning themselves in opposition to the scene's slick sophistication and skinny bodies, a form of dandyism that was largely enjoyed by men. Instead, the Neo Naturists were rebellious, curvaceous, and pagan. Their main concern was to take pleasure in the act, and to celebrate the natural forms of their bodies.
"I swapped my Flesh Tint oil paint for some blue and gold body paint and transformed her into a voluptuous version of Tutankhamen's sarcophagus," Johnson recalls—in the exhibition's catalogue essay—of the first time she painted Christine. They freely incorporated materials close to hand, taping household items to their bodies, and their 1985 manifesto includes an inventory: "Boiled crab, shrimps, tin foil, gold leaf, paper doilies, biscuits, peanuts, bottle of wine, Scotch pancakes, contraceptive sheaths, squid, sheep's heart, bikini briefs, sausages, bacon and eggs, freezer bag wombs, apples, burning incense, knives and forks, £10 notes, sequins, vitamins, tins of tuna, and of course, lots of Sellotape."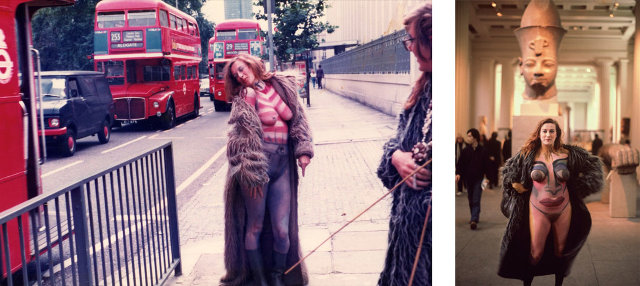 In one of their most iconic works, Flashing in the British Museum (1982), Christine donned a shaggy coat and pranced through the British Museum, flashing her painted body beside Egyptian relics and Greek antiquities. ("Just wear a big coat," she once advised would-be flashers: "It's easy!") Another performance, Pink Punk Yoga (1982), at The Fridge in Brixton blended the incongruous practices of punk and meditation, while Sexist Crabs (1983) at the Zap Club in Brighton was a chaotic gambol around the stage with seafood taped to their bodies.
They eschewed rehearsals, preferring ritualistic improvisation, and sometimes they simply took to the streets, as in Swimming and Walking Experiment (1984), when they cavorted in the fountains below London's Brutalist tower block Centre Point—and got arrested by the police. Occasionally, they made the headlines, outraging some conservative hacks and delighting others. "Hooray for the Bare Binnies!" crooned the Daily Star of 1984.
For women to take such pleasure in their art was deeply subversive. Like all heretics, they didn't play by anyone else's rules. They opted for spontaneous exuberance, in contrast to the message of Thatcherite conservatism (be professional!) or the affected, male-dominated New Romantics (be flamboyant!)."The Neo Naturists are casual to the point of excess," their manifesto states. "[They] believe that gorgeousness is the ultimate intelligence."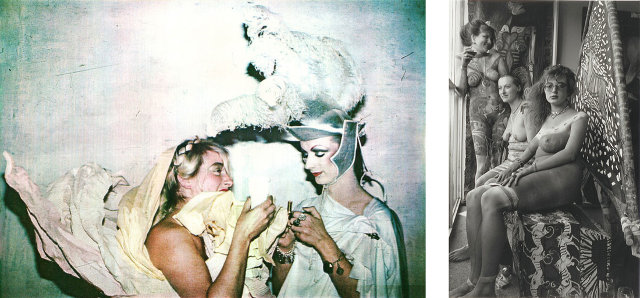 As Studio Voltaire curator Jessica Vaughan points out, one important aspect to understand about the Neo Naturists is that their display of the female body was in no way pornographic. "What they were doing was radical," says Vaughan, "because they were delighting in the female form in a way that isn't titillating or sexualized, but instead is something full of humor and celebration."
The Neo Naturists did not commodify their practice, and they were never picked up by a commercial gallery. By the end of the 1980s, they had moved out of the squat they shared and dispersed. Many of the men from their circle, however, went on to become successful British artists, including Perry, Maybury, and Michael Clark. "It's not the first time that female artists were forgotten," Vaughan says, "while male counterparts, who were incredibly influenced by the women around them, went on to become household names."
There are a multitude of reasons why the Neo Naturists slipped through the net. For one, nobody quite knew what to make of them. "Feminists see us as porno sex cabaret, while your average person sees us as butch dykes," Jennifer said in an interview in the 1980s. "We're not either." Their work was only obliquely political, more concerned with celebrating the personal: their friendships with one another, and their bodies. "The Neo Naturists are works of art," the manifesto quips, "and the world is their private view."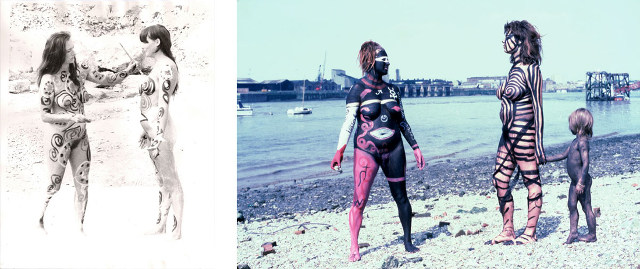 It wasn't entirely over for the Neo Naturists in 1986, but they left behind a fragmented opus. Following the group's dispersal, Christine went solo and kept the movement active well into this millennium. In the 1990s, she assembled a small archive in her east London apartment, and one of the Studio Voltaire curators' projects has been to expand it. "We've been trying to get a comprehensive overview of the movement, and a secure chronology," Vaughan says. "There's a quite a bit of guesswork because Wilma, Jen, and Christine might all remember things differently. But looking back, they were an incredible counterpoint to the queer male voices of the time, and they mustn't be overlooked."