Yes. Talk about a strange mix of subjects for one blog post. Please, read on.
A few days ago I listened to a podcast in the "Stuff they don't want you to know" series. Maybe you know it. This specific episode was called "Indigenous Tribes, Covid & PPE".
To my shock and horror I discovered that Native Americans are heavily affected by the COVID pandemic, and that in most cases and states, hardly a thing is done to help them, or even to educate them on the issues.
I know that the United States have many problems, and many people will shrug this off. I, however, am not many people. If you know my "Naked Crow" books, you may know that Native Americans play an important part in the stories.

The thing that really hit me, as stated in the podcast, was that "Doctors Without Borders" is stepping in to help Native Americans. This may not mean much to you, but this organisation usually steps in when a situation in a third world country is hopeless.
So what does this have to do with books?
In a previous blog post I mentioned "Murder in the nudist colony". An anthology with death in all kinds of nudist places (just to stay on the cheerful side of life of course). All the proceeds of this book will go to Doctors Without Borders. After learning that this organisation is on the move to help the original Americans, this means even more to me. So here is your chance to help that organisation!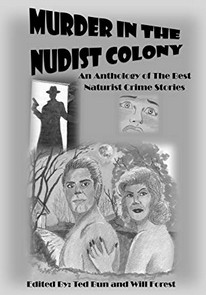 Murder in the nudist colony.
Pre-order it on Amazon, or on another e-book platform. Select your favourite one here.
On behalf of all the authors and other contributors to this publication, I thank you!