I know, this raises expectations. Be the judge yourself.
A while ago I posted about my neighbour who found out I'm a nudist and that I like to go around naked in my own house. He does not want his daughter and her kids to see me naked. Last week I was changing the bedding. I was naked. It had been very hot (93F) the day before, and the night hadn't been cool either so I had opened the window and the curtains to air the place. Then I heard kids. I turned and saw two children I had seen before. At the local nude beach. They're brother and sister, 8 and 10 I think.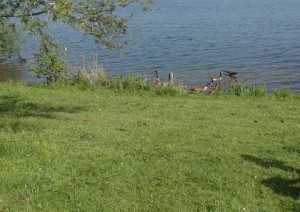 I know them and their parents. The kids recognised me and said they were visiting their grandparents next door with their mother, and they were playing outside on the gallery. Their grandma had told them about my cats (they sit looking out the bedroom window quite often) and the kids asked if they could play with them.
I said that was fine if their mother had no problems with that. They went to ask and mom was fine with it. I was already grinning, because clearly this lady's parents didn't know she was a regular at our local nude beach.
The kids came in and asked (!) if they could take off their clothes as well, "because we do that at home too". Of course, go ahead, but I told them to be careful with the cats; their claws are sharp. The kids had a good time with the cats, I finished the bed and then their mother called at the door. She came in and we had a nice talk. She seems a bit stressed about her parents and them being opposed to anything showing skin more than a finger or a nose. They had told her (actually warned her) about me. She thanked me for allowing the kids be the way they liked to be and then they left.
This encounter still has me laughing. I'll probably run into the family again at the nude beach and I am not sure if I can keep back my laughter when I see my neighbours again.