Trust me. You can talk until you're blue in the face, or any other colour you fancy, but it's just as easy to explain how wonderful it is to walk around nude and carefree as it is to explain how an orange tastes to someone who's never seen or tasted one.
Some people will never agree that it's silly to put on clothes when it's warm enough to go without them. Lifelong conditioning does strange things to a brain. Imagine, dear fellow nudist, that suddenly someone comes up to you and tells you you don't need to eat, that life goes on as usual without food. That's hard to believe as well. (Okay, as far as we know now it's not true, so please don't try it.)
I think we need to see the ideas of convinced textiles in a similar light. Being enthusiastic about your nudist lifestyle in an honest way is perhaps the best approach. Talk about it but don't tell people to do it too. Suggest that they might try it some time. Do you feel the nuance?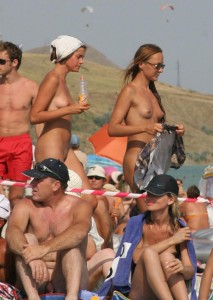 We all know that clothes aren't natural. They were adopted as a necessity against the influences of weather and climate. No living creature is ever born with clothes on. Still, people's minds are ingrained with the certainty that you need clothes. Teach someone something from birth and it becomes (second) nature. (Lots of sad examples for that.) If someone you meet is interested in, or even inclined to try nudism, a good way might be to encourage them to do it in the safety of their home, alone. And not just once, but advise them to try it several times. The first time is the most difficult one – most modern people have grown so distant from the sight of their own body that they'll immediately focus on the things they hate about it. It takes time to get used to that for them. Unfortunately. But with some luck, if they do try and like it, they'll let you know.