Ja, ik ben weggeweest. En nu ben ik helaas terug. Helaas? Nou, laat me dat maar eens duidelijk maken dan:
Ik ben op vakantie geweest in een heel leuk naturistisch hotel op Kreta. Het hotel heet Vritomartis. Die naam komt van een griekse godin die de beschermster was (en mogelijk nog steeds is) van de vissers.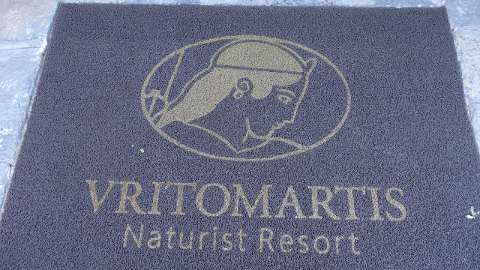 Wat kan ik zeggen over Vritomartis? Heel wat.
Ten eerste was het perfect voor wat ik zocht. Een stille plek, ver van de drukte, verkeer en al dat. Als je niet van rust houdt moet je niet naar Vritomartis gaan. Het is echter een prima plek om aardige mensen te leren kennen, waar een vriendelijke staf alles voor je wil doen. Goed eten, schone, frisse kamers, ruimte en tijd om weer eens adem te halen en te ontspannen terwijl je aanhebt wat je het liefste draagt. Dat is wat je bij Vritomartis vindt.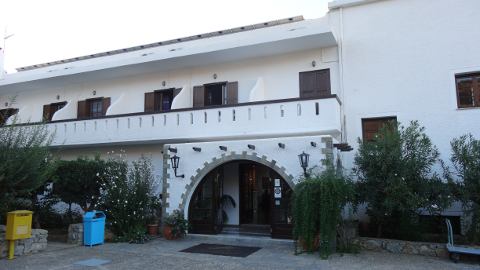 Algemeen.
Het hotel ligt aan de zuidkust van Kreta, aan de voet van bergen en dicht bij de zee. Het dichtstbijzijnde plaatsje is Chora Sfakion, 2.2km van het hotel af. Vritomartis heeft een eigen pendeldienst om mensen naar en van het plaatsje te krijgen, die rijdt 4 a 5 keer per dag. De afstand is niet enorm en voor wie van wandelen houdt is het een leuk uitstapje. Let op dat je dit officieel niet naakt kunt doen omdat het een openbare weg is. Ik sprak echter iemand die het merendeel van de weg naakt had gewandeld.
In Chora Sfakion is de dichtstbijzijnde pin-automaat, er is er geen in het hotel. Dit is handig om te weten als je naar Vritomartis gaat.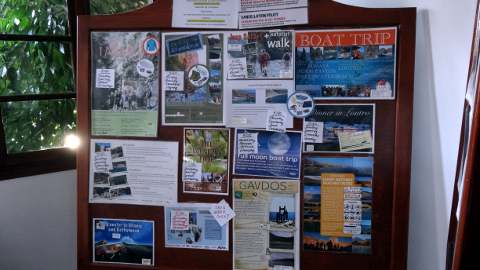 Excursies en trips.
Aan uitstapjes en zo geen gebrek. Je kunt echt vanalles doen als je daar zin in hebt. Zorg wel voor voldoende contant geld want excursies en zo moeten van tevoren contant worden afgerekend. Je kunt natuurlijk ook naar Chora Sfakion wandelen of bussen om geld te pinnen. De pin-automaat daar wordt ongeveer een keer per week bijgevuld dus je loopt de kans dat die leeg is.
Wat is er allemaal te doen? Er zijn verschillende wandelroutes door de vele kloven die dit deel van Kreta bekend maken. Tenminste een van de wandelingen is (grotendeels) naturistisch. Je kunt met de jeep weg, naturistische boottochten maken, archeologische plekken bezoeken, noem maar op.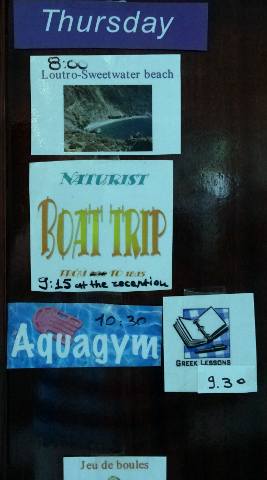 Als je niet veel trek hebt om het hotel te verlaten, geen nood. In het hotel is ook genoeg te doen, zoals griekse les, aquagym, volleybal, shuffle-board, tennis en jeu de boules.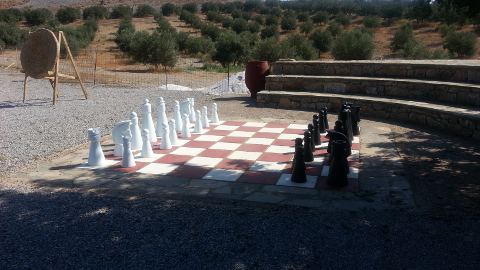 Er is ook een groot schaakbord voor de liefhebbers, en mijn favoriet was het boogschieten. Iedereen kan op Vritomartis doen en laten wat hij of zij wil. Wil je gewoon lekker in de zon hangen? In de zon door de tuin slenteren? Lekker hangen, lekker slenteren.
Het moge duidelijk zijn dat ik van dit hotel heb genoten. Nu is het in elk geval duidelijker waarom ik een tijd lang niet op zjuzdme.org heb gepost! 🙂
Benieuwd? Lees meer over het hotel op hun nederlandstalige website, of wacht op deel twee van mijn ervaringen op en met Vritomartis!