Ik las eens ergens (sorry, ben de bron kwijt) dat publiekelijk naakt veel problemen zou veroorzaken omdat veel mensen er zo nieuwsgierig naar zijn. De meesten zullen het niet toegeven, maar als je naar video's b.v. een World Naked Bike Ride kijkt, of een publieke skinny dip, dan zijn er niet veel geklede mensen die hun ogen van de naakte mensen afwenden. In tegendeel, er wordt wat afgekeken en gefotografeerd:

Waar komt dus dat idee vandaan dat naaktheid nieuwsgierigheid oproept? Ik denk dat het komt door kleren en doordat de meeste mensen naaktheid niet gewend zijn. Als je iemand in kleding ziet dan heb je geen idee wie daar onder zit. Er is een geheim, een puzzel, iets onbekends. En het is de aard van het mensenbeetjes om dat soort dingen uit te zoeken tot op de bodem. letterlijk door de kleren heen kijken.. Nou, een nudist maakt het in dat opzicht erg makkelijk voor die mensen.
Nou, wees eerlijk. Kijk eens naar de onderstaande afbeelding en zeg dan waar je nieuwsgieriger naar bent. Links of rechts?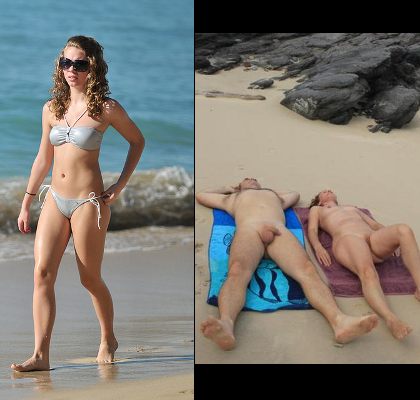 Links: je blijft kijken of er misschien nog eens wat meer te zien is.
Rechts: een keer kijken en je hebt alles gezien.
Dus als je niet in de verleiding wilt worden gebracht is nudisme of naturisme misschien wel de beste stap die je kunt maken…