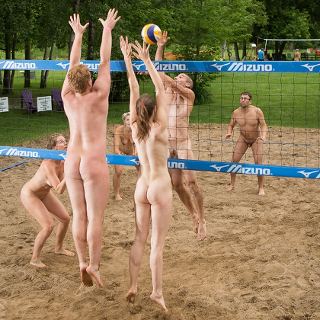 Somehow, being lucky as I can be at times, I located this written piece through the website of the Naturist Action Group.
I'm reposting this in the full.
Thank you John Paine, the original author of this very interesting article.
---
Media interest in Hampstead Heath naturism
An incredible 93% of initial responders to an online newspaper survey would support naturism on Hampstead Heath. The Hampstead & Highgate Express published an item on Thursday 25 May after contact by NAG. Carlie, John, Harvey, Steve, of the NAG London group, who met with reporter Anna Behrmann. A photo of naturists on Hampstead Heath was supplied by NAG supporter Natasha, who shows her work on her Natansky website. That immediate opinion response was to the Ham & High online question they ran with the published article. National daily The Times then covered this story and response.
On the morning of 1 June BBC Radio London's Vanessa Feltz held a live interview with NAG's Harvey Allen. That day Chris Baynes of the London Evening Standard contacted John Paine, NAG's London co-ordinator. On 2 June the London Evening Standard online version carried a large item Naturists call for naked sunbathing rights on Hampstead Heath. That same day BBC London TV interviewed Harvey at Hampstead Heath, which was then broadcast in their tea-time news programme.
NAG says there are health benefits to open air nudity and make clear that public nudity is legal if it is not "intended to cause alarm or distress". NAG maintains that parks in London are heavily used, and only in the larger parks is discreet naturism possible. The City of London Corporation was legally given management responsibility for Hampstead Heath when the then Prime Minister, Margaret Thatcher, abolished the GLC in 1989. However, the Hampstead Heath management mistakenly claimed to the London Evening Standard that 'nudity is a criminal offence' and is prohibited there. Nudity is not mentioned in the Hampstead Heath bylaws, which were written in 1932.
Photographer Natasha Porter says "There needs to be more spaces available to be naked and free around London. I think that it actually reduces the sexual connections to nudity. Naked bodies do not need to equate to sex"
In all the media interviews NAG mentioned the annual London WNBR. For over 10 years thousands of street spectators have happily accepted the WNBR nudity. It is estimated that on 10 June 2017 over 1,500 cyclists, of all ages and sexes, took part in the London WNBR. Up to 90% of the cycling participants were naked this year, and the usual enthusiastic public response from the crowded pavements was evident. One male cyclist rode naked from arrival at Euston station to the Kings Cross start point, with no adverse public reactions!
The recent media actions described here are part of the various ongoing NAG campaigns to change public perception of naturism. John Paine said "People who are naturists see it as a lifestyle choice rather than a peculiar hobby."
NAG will hold several 'vox pop' interviews on Hampstead Heath in June. Small teams of NAG supporters will ask 4 quick questions of users of Hampstead Heath. They will be asked if they support the idea of naturists discreetly using Hampstead Heath. In fact, this has been happening for over 50 years and in recent times NAG has organised for small groups of naturists to do so collectively. The Hampstead Heath management want proof that many London naturists do want naturism to be allowed there.
London naturists who want to help this NAG campaign can do so by contacting us through this NAG website. Elsewhere on this website you will see more information about what has been done by NAG in London, and ideas that are being explored. This includes action with other naturists internationally, including in Paris and Munich.
John Paine 15 June 2017