Grooootse Nudistenbowling met broodjes 3de editie te AALST
Zondag 18 mei 2014
2,5 uur bowlen + Belegde broodjes : €15,- per persoon (drank niet inbegrepen).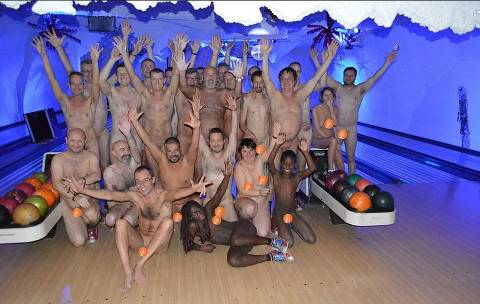 De deuren gaan open op 10u00. We bowlen van 10u30-13u00.
Aansluitend is er voor iedereen belegde broodjes. (Drank is niet inbegrepen, de rest wel.)
Speciale broodjeswensen? info@blootgewoon.info
Inschrijven kan vanaf nu door €15,- over te maken op rekeningnr : iban : BE84 0016 3676 4559 & BIC : GEBA BE BB met vermelding van naam en email-adres van de personen die je inschrijft ! Zo krijg je vlot een mail met de praktische informatie. Schrijf je voor meerderen in en heb je geen plaats genoeg? Vul dan één naam en email in en stuur een mailtje naar: info@blootgewoon.info met alle namen en emails.
Schrijf gerust ook vrienden en vriendinnen in van buiten de groep, zolang het concept ze aanspreekt is dat geen probleem. We moeten zorgen dat we voldoende inschrijvingen hebben. minimum om het te laten doorgaan is 28 !!!
Er is zoals op vorige editie van de Bowling één fotograaf (de organisator) die lage resolutiefoto's zal doorsturen naar alle deelnemers. Hogere resolutiebeelden van jezelf kan je dan ook krijgen, niet van andere personen!!
We maken een groepsfoto. Iedereen zal de keuze hebben om op de groepsfoto te staan of er niet op te staan! Vergeet je handdoek en je goed humeur niet !
Andere activiteiten zijn te vinden op : http://tuinkabouter.be/kalender.html