Charco del Palo. Alweer.
Absoluut. Dit jaar bezocht ik Lanzarote alwer. Charco del Palo heeft een bijzondere aantrekkingskracht omdat het een naturistenplaatsje is. Het voelde een beetje als thuiskomen. Ik kwam aan in het appartement, deed mijn kleren uit en dat was het. Charco del Palo is een unieke plek voor mij. Er zullen best nog andere plaatsen zijn die eenzelfde ervaring bieden maar die ken ik (nog) niet.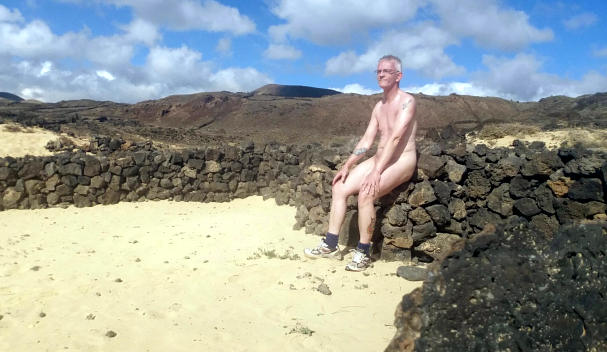 Het duurde niet lang voordat ik de eerste, blote wandeling achter de rug had. In totaal heb ik zo'n goede 32 kilometer gewandeld in die week. En geen enkele kilometer werd ik aangestaard. Iedereen in en rond Charco begrijpt of accepteert dat er verschillende gradaties van vrijheid zijn. De plaatselijke, geklede bevolking is er al lang aan gewend, die kijken niet meer op van een bloot lichaam.
Geklede bevolking?
Jazeker. Niet iedereen loopt daar in zijn of haar nakie rond. In feite is kleding optioneel in het dorp en dat werkt goed. Een trieste ontwikkeling is helaas wel dat veel van de oudere inwoners die continu naakt waren zich meer en meer aankleden. Dat is 'dank zij' de moderne reclames. Die rommel boort zich in alle hoofden en heeft een groot aantal van hen al overtuigd dat we fit en mooi en strak en 22 jaar jong moeten zijn. Ik vind dat de grootste bagger maar de schade is er al. Hopelijk kunnen we het tij nog keren.
Winkelen.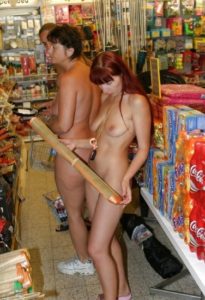 Vorig jaar had Charco geen supermarkt. Dat was wel jammer. Dit jaar, sinds januari, heeft een echtpaar de plaatselijke 'supermercado' weer nieuw leven ingeblazen. Dat is goed. Het assortiment verraste me plezierig en de prijzen zijn alleszins in orde. Het beste van de winkel: ook hier is kleding optioneel. Ik had nog nooit eerder bloot boodschappen gedaan. Deze ronde dus wel. En ik kan je vertellen: het is net als boodschappen doen. Maar dan zonder de noodzaak van kleren.