Geloof me maar. Je kunt praten als Brugman of elke andere goed van de tongriem gesneden spreker, maar uitleggen hoe aangenaam het is om zonder kleren rond te lopen is net zo eenvoudig als aan iemand uitleggen hoe een sinaasappel smaakt als die persoon zoiets nog nooit gezien of geproefd heeft.
Sommige mensen zullen nooit toegeven dat het raar is om kleren aan te trekken als het warm genoeg is om zonder textiel rond te lopen. Levenslange conditionering doet nou eenmaal vreemde dingen. Stel je eens voor, beste medenudist, dat opeens iemand op je afkomt en zegt dat je eigenlijk niet hoeft te eten. Dat je zonder te eten ook prima kunt leven. Dat is moeilijk te geloven. (Okee, voor zover we nu weten kan het ook niet, dus probeer het niet uit!)
Ik denk denk dat we de ideeën van overtuigde kledingdragers in eenzelfde licht moeten zien. Enthousiast zijn over je eigen naakte levenswijze is waarschijnlijk de beste insteek. Praat erover maar zeg niet tegen anderen dat ze het eens moeten proberen. Stel voor dat ze het eens zouden kunnen proberen. Voel je het verschil, de nuance?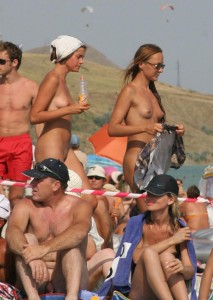 We weten allemaal dat kleren niet natuurlijk zijn. Ze zijn nodig geworden door weer en klimaat. Geen enkel levend wezen wordt geboren met kleren aan. Ondanks dat is zowat iedereen aangeleerd dat kleren moeten. Vertel iemand iets vanaf diens geboorte en het wordt een (tweede) natuur. (Genoeg trieste voorbeelden voorhanden.) Stel je ontmoet iemand die wel geïnteresseerd is, of zelfs geneigd om nudisme eens te proberen, dan zou een goede manier zijn om voor te stellen dat die persoon het thuis probeert, alleen waar het veilig is. En dan niet één keer maar een aantal keren. De eerste keer is namelijk het moeilijkste – de meeste moderne mensen zijn zo van hun eigen lichaam afgegroeid dat ze meteen zullen kijken naar de delen waar ze een hekel aan hebben. Dat heeft tijd nodig, acceptatie is jammer genoeg een traag proces. Met wat geluk, als ze het proberen en het prettig beginnen te vinden, dan zullen ze het laten weten.