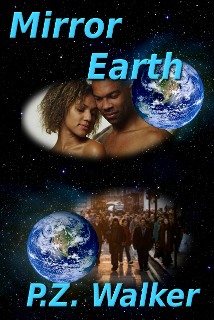 Yep, here it is. Mirror Earth, the second naturist scifi I managed to write. I've had a few very nice comments about it from early readers and I hope you will like it too.
To refresh your memory: Earth. The future. Researchers have discovered how to detect fluctuations in time and found that there is the possibility for alternate realities. Complicated calculations, big laboratories and big interests are at stake.
A group of researchers is dedicated to pursuing the biggest experiment in their lives: to see if there are indeed other worlds like ours. And what will they look like if there is anything like another Earth?
Where is the book available: Smashwords, any Amazon store near your browser, Kobo e-books, of course the Apple iTunes bookstore, and Barnes & Noble.
If you prefer the paperback, you'll find that at Createspace once I've seen and agreed with the proof. I'm not going to let people buy something I haven't checked myself. This should be soon though!