For people who seek a more active approach to meditation I have found two options. The first one, which I will detail here, is one that requires being outside. That means it's not an option for everyone/all the time. Still, if you have the opportunity, seize it and try this.
So, if you are up for this and have the opportunity – go outside. There is one object you will need for this form of meditation: a tree. Walk around (naked if possible) and find a tree that appeals to you. This walking around is already part of the meditation, a preparation to connect with nature. (Naturists, are you paying attention?)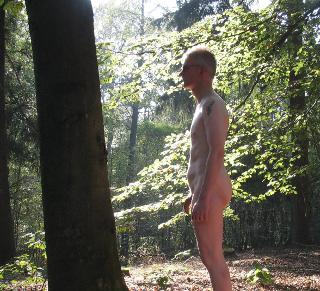 Once you've found a tree you feel 'comfortable' with, take off your shoes or slippers if you wear any. Stand close to your tree, on bare feet, and rest your palms against the trunk of the tree. Look at your feet, how they are on the ground, in the sand. Then look at your hands, how they touch the tree. Look down and up a few times and understand that this is you, reaching out to a powerful living thing of nature.
Now close your eyes and look down in your mind. You should still be able to 'see' your feet in the sand. Now reach down with your mind and feel how your feet are in that sand. Feel it beneath your feet, around your toes. Feel how your feet are your roots, the main part of your body that connects you to the world, to nature. Once you have established that connection through your feet, look up in your mind and see your hands against the tree. Imagine how they are becoming a part of the tree, making you a part of the tree. Feel how a tree would feel, it's steadiness, its calm way of being in that place since many years, and for many years to come. Try to mould your mind around those traits of a tree, being content in your place while doing what you can to grow higher, taller.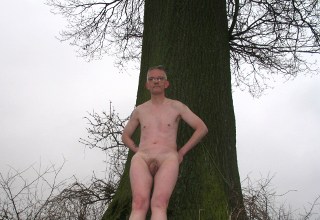 Stay like that for as long as you feel comfortable. When you notice a shiver (cold) or a tremble (fatigue in arms or legs), open your eyes and slowly take your hands from the tree. Thank the tree for being your guide (if you want to do that, if not – the tree understands). Walk around a bit, swinging your arms (don't forget to put on your footwear if you had any on) to get your blood flowing again and then go home. And take with you the feeling that the tree gave you. Don't forget: the tree is there for you whenever you need it. You can also go there when it's colder, just don't take off your shoes when you don't feel comfortable then. Staying healthy is smart.