Most people aren't against nudity.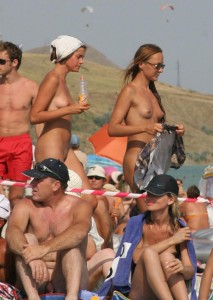 That may be a bold statement but when you look at the profits that the porn industry makes – and porn happens mostly undressed, then this should be a fact.
For instance look at Forbes: "Take for instance the New York Times Magazine: It ran a cover story on May 18 called "Naked Capitalists: There's No Business Like Porn Business." Its thesis: Pornography is big business–with $10 billion to $14 billion in annual sales. The author, Frank Rich Frank Rich , suggests that pornography is bigger than any of the major league sports, perhaps bigger than Hollywood. Porn is "no longer a sideshow to the mainstream…it is the mainstream," he says."
$10 billion worth of naked isn't just any old shoe. It means that many people like naked people. Why then is there this big issue then with us naked people being out and about? Because we are not enticing. We're not sensual, erotic, nor do we share any other trait that the porn industry makes its money from. We're just naked people without anything special. There's no money to be made of us (which is good) but the way we behave we're not exciting.
I think that most people have been programmed to dislike nudists and nudity. They have been programmed in many other ways too (we all are), all thanks to commercialism and the wicked ways of culture and religion. Let's see if there is a way to turn the tide. To deprogram people and make nudity something accepted – maybe even respected.