Did you know that driving naked in Germany is not forbidden? Now there's no law that actually states you can drive around naked but as long as you're able to drive your vehicle in a safe and controlled manner you're fine.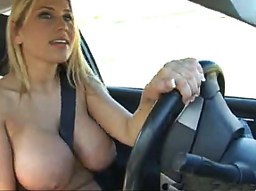 You may have a problem on your hands when you're in an accident and you weren't wearing footwear. Breaking hard can be painful on bare feet, this makes you were not able to drive your car safely and that's where "the shoe hurts" then.
Note that this is only applicable for being inside your car. Once you get out you should either be dressed or in a place where you can't offend other people by being naked (for instance a spot where there are no people, or in a nudist area).