Hallo! Welkom terug!
Zoals beloofd is hier deel 2 over mijn vakantie in het naturistenhotel Vritomartis op Kreta.
Kleding optioneel.
Ja, Vritomartis is niet voor hardcore naturisten die geen vierkante centimeter textiel willen zien. Hier zie je mensen in alle stadia van ont- en gekleedheid en niemand maakt daar een probleem van. En zo hoort het ook, vind ik. Tolerantie staat hier hoog in het vaandel. Ik heb blote mensen zien praten met geklede mensen, blote ouders die rondwandelen met hun badkleding-dragende kinderen, mensen die gekleed gaan in een handdoek en zo verder. Het maakt niet uit. Iedereen is er om een fijne tijd te beleven en dat kun je vormgeven zoals je dat het liefste hebt.
Bij deze dus een waarschuwing voor naturisme-puristen: je zult hier textiel tegenkomen dus is het verstandig om Vritomartis voorlopig even niet te bezoeken. Het is maar dat je het weet.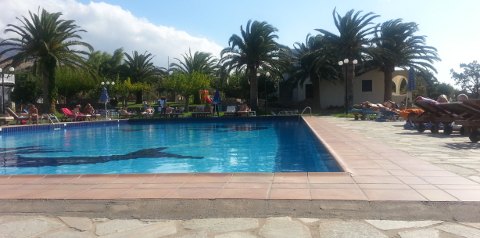 Hierboven zie je het zwembad waar je kunt zwemmen, aqyagymmen zoals ik in deel 1 al meldde, of je vermijdt het water helemaal en zoekt letterlijk de zon op.
Het naaktstrand.
Het hotel heeft zijn eigen naakstrand. Dit strand is niet kleding-optioneel, naakt is hier echt naakt. Er is een kleine bar waar je iets te eten en drinken kunt krijgen, dus dat is nog een reden om hier een aangename, naakte dag door te brengen. Let wel dat dit strand, zoals veel stranden op de griekse eilanden, een kiezelstrand is. Er zijn echter strandbedden aanwezig zodat je geen rare plekken in je vel krijgt – tenzij je zoiets leuk vindt natuurlijk. 🙂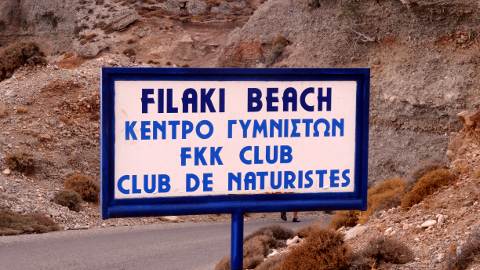 Het naaktstrand van Vritomartis, genaamd Filaki, ligt 750 meter van het hotel. Net als voor het stadje is er ook voor het strand een shuttledienst om je erheen te brengen als je niet goed ter been bent of gewoon niet wilt lopen. Zoals eerder gemeld zijn de wegen buiten het hotel openbaar dus is het niet de bedoeling om daar in je blootje te gaan lopen, maar de weg naar het naaktstrand is erg stil en de kans dat je 'betrapt' wordt lijkt me erg klein. Op een bepaalde plek kom je wel wat dichter bij een weg waar auto's rijden. Voor dat punt is het handig om iets bedekkends bij de hand te houden. Ik heb er zelf geen last van gehad.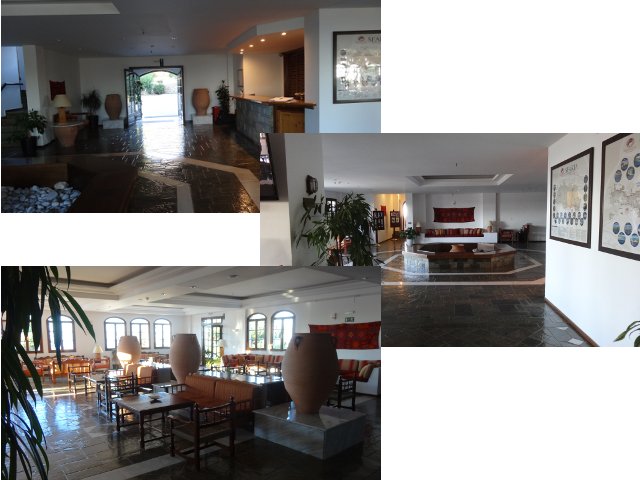 Hierboven nog een paar impressies van het hotel zelf. En hieronder nog wat foto's van de activiteiten: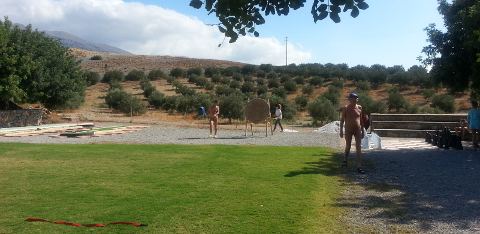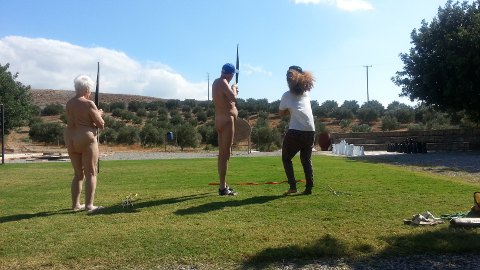 Ik hoop dat dit een behulpzame introductie was tot Vritomartis, en voor de mensen die er eerder zijn geweest misschien wel een leuke herinnering!