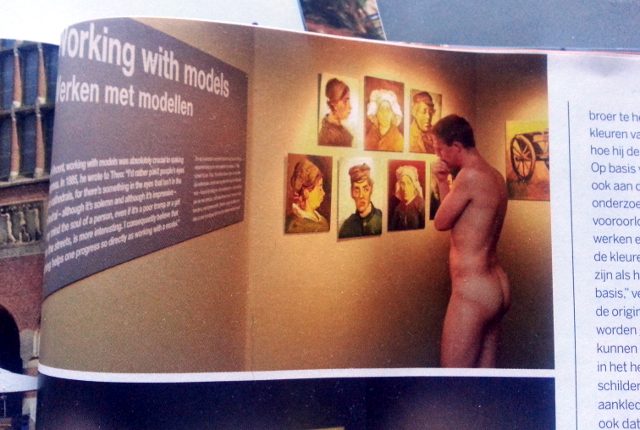 Yes, you've seen this image before. I posted this earlier, before the evening of going to see paintings of Vincent van Gogh. That evening has come and gone, and was enjoyed not only by me but by lots of people.
The idea was fabulous, I think. This year is Vincent van Gogh year in the Netherlands so there are many galleries and exhibitions with his work. One museum in Amsterdam had a set of 200 excellent reproductions on display and the NFN, the Dutch Naturist Federation, had arranged a special opening on Saturday evening for their members and invitees. I don't know how many people came but I saw plenty of them. And the art was amazing. It was a very special feeling to walk through a museum and look at art when not being dressed, simply because I had never done this before. The space was nice, good for bare feet (even when many people wore slippers or even shoes). The light was great. The paintings and the information with them were amazing in detail, and the several booths with 3D imagery of how certain paintings were made were very entertaining. Not everyone was so thrilled with them, but then people are people. All different.
It was a fantastic experience and I hope that the NFN will be able to organise something like this again. I'm good to go!