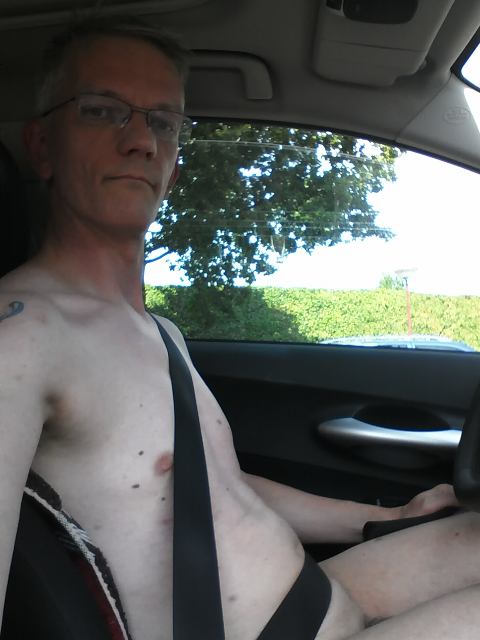 I hadn't done that a lot. Driving nude. Actually I was pointed to it after I had joined the Nook.
Why would you drive nude? Well, why wouldn't you if you're a nudist? You wouldn't when it's too cold, I can see that. But when it's warm and nice, there would not be a reason to keep your clothes on while you're in your car, unless you suspect you need to get out of your car at any moment.
A few things I have learnt since that time:
It's very comfortable. Nothing pulls and yanks, just like being nude in general.
I needed to get used to feeling the seat belt on my skin. That was annoying for a while.
Nobody watches you. I think this is a major thing to realise; people don't expect you to be in your car naked so they're not on the lookout for you. If you act naturally (and how else can you when you're in your natural skin) they will do that too. They'll also be paying attention to traffic. (Or their phone… 🙁 )
Putting something on again is much easier when you slide the seat back all the way. (But only when you're standing still, don't try this on the motorway!)
Keep something of clothing near in case you need to stop for a sign by e.g. a police officer. You can pull it over your lap to avoid compromising situations. (I do understand that this would not be enough for ladies.)
Keep a towel in your car and sit on that. You'll sweat and the sweat will go into the upholstery of the seat. A towel is much easier to wash.
The air conditioning is much more effective: instead of mostly cooling your clothes it actually cools down you, so you don't have to crank it up so much to feel comfortable.
 Some tips if you want to start carefully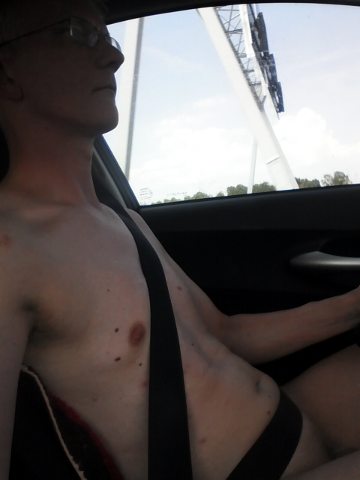 Take back roads that you know to be quiet, or drive around quiet industrial areas in weekends if there are any.
Drive in the evening when it's (getting) dark. Of course, in the summer this would be difficult unless you're okay with going for it much later than usual. In the winter it's dark early, you could drive around a bit until the car's warm and then take off your clothes.
Drive around dinner time if that's something in your area which makes most people be inside.