Today I received a new version of Nudist Compass on my Android. This is version 1.38 and it's still in beta according to the maker. Let's have a better, personal look behind the break: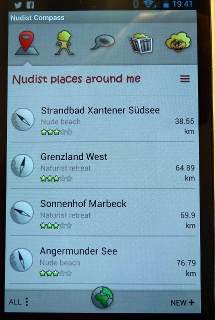 The program opens with a view of the nudist places closest to me. As I am in the Netherlands and close to the  German border it will show several German nudist places close to me.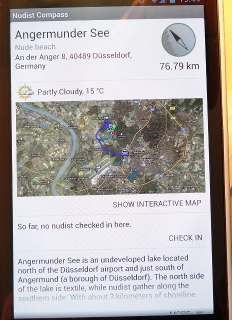 Tapping "Angermunder See" on the previous screen (bottom option) shows detailed information about this place, including the current weather and the number of nudists who have checked in from there.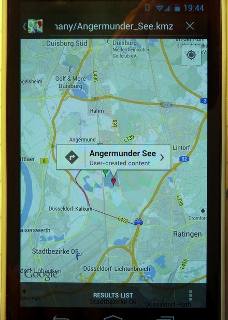 Tapping "interactive map" just beneath the map-image takes you to Google Maps which shows the location you selected there.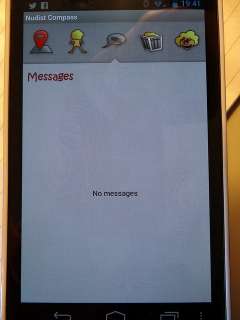 Nudist Compass allows you to send messages to other users, which can be very convenient if you want to get in touch with local nudists or nudist friends.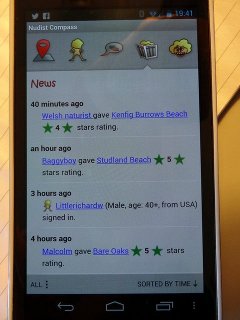 The NEWS option shows the latest information about people signing in, checking into various nudist places around the world and how they rated their experience there.
This gives a reasonably good picture of the local situation, although of course everyone has their own opinion about 3 or 5 stars.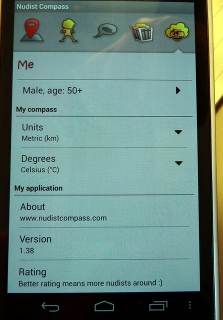 The last screen shows your (in this case my) information. Here you can adjust the information about your profile and your preferences about distances and how temperatures should be shown.
As you see, this is version 1.38. If you want to know more, visit nudistcompass.com.