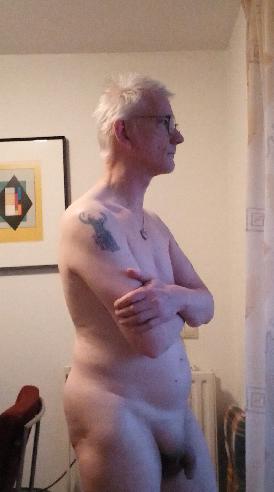 It's what I do, mainly. I'm an indoor person, definitely with the winter weather here in the Netherlands.
I feel very privileged to have this possibility of not having to wear clothes when I'm at home. I live high up, people can't see me from the street – even when I'm on the balcony.
Many people are into social naturism. I sometimes try to do that too, but life has taught me that I'm not a many-people person. Do you count yourself a social one, who can't get enough people around? (Which in the past weeks and months and… has been quite difficult!)
I don't know why I am this way.
My parents were very social and outgoing. My sister is like that as well. I am not and I never was. The odd thing is that, when I do go to some social event, it usually feels like something that was worth the effort. (Because really, getting up and going there is an emotional effort, even if it's just a 20 minute bike ride to get to the local nude beach.)
It's weird. I know the people there are nice and friendly, and most of the time, if you keep to yourself, they will leave you in peace, but that odd feeling remains. On the off chance that you, reading this, are like me, how do you handle things like that? Do you stay at home and indoors as much as well, or do you go out and face the 'social demon'? (That concept just popped into my head, ha ha!)
And oh wow, as I was looking for a picture to go with social demons, I stumbled over this. It's actually a thing. Not sure if this is something I am going to take on yet, but if you're interested, you can find the book here.
Until I figure this out (and that might take a while) I'll stick to the anti social social club and be who I am.
(It gives me a lot of time to focus on the stories!)