I'm sure many fellow-naked-ones are wondering about that.
The main thing usually is to find something to do inside. There are several options, like watching TV (lots of people do that so why not in the nude). You can do housework (much more comfortable than with clothing getting in the way).
You can also do games!
Games, especially the ones that get you off the chair or couch and that make you move around can be a lot of fun. They will also make sure you won't get cold, so there's another benefit.
Saving on heating has never been easier that way.
Maybe you remember this ancient game. Twister. Doing that in the nude is seriously entertaining, and again you don't have to worry about tearing up your clothes.
See, I just offered you a few ways to get through the cold autumn and winter days and evenings. Of course you can't keep doing this all the time, I understand, but it's great fun to do, especially if you can invite a few naturist friends over.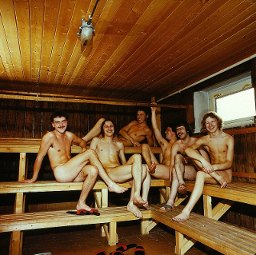 This is also a very pleasant way to warm up. Go to a spa or wellness centre where nudity is okay and spend some relaxing downtime there. I don't know about the situation all over the world but here in the Netherlands many swimming pools have nudist evenings once a week or once a month. That's a good way to get your naked fix.
Have fun, and if you know of more things to do in the cold days, do let me know. I'm always looking to learn!